Lot's of very useful information to solve your problems as far as dealing with many of the typical problems and some not so typical problems that we run into when working on a computer.
How to edit a Flip Video AVI file with Windows Movie Maker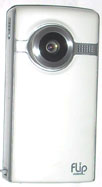 by Roger Chartier:

So I bought my Flip video camera and made a quickie video to use as a test.

I inserted the Video Camera into the USB of my computer and then the software opened, and I loaded it on the computer.

Cool! ... or so I thought.
Time to edit. The version of Muvee that comes with it is limited.





For me, titles were an issue, so I figured well the camera is creating an AVI file and Windows movie maker should be able to deal with that but noooooo.

When I imported the file into Windows Movie Maker, only the audio would open.
So I drove myself nuts looking for a solution and finally I found it.

Ready? Here, it is:
Roger's "Easy fix" to editing Flip Videos with Windows Movie Maker:
Edit the Flip video AVI file in the Flip Video provided software only as much as clipping the unwanted intro or ending if need be and then use that software to make or save it as a "Movie". It seems that the Codecs for the original AVI files aren't the same as needed by Windows Movie Maker.
Save it to a folder and then open Windows Movie Maker and then open the saved "movie" version for further editing. That's the trick...
Took me 2 1/2 hours to figure that one out. Damn!
Finally, the video opens and so does the audio. Neat Nice!
Roger Chartier
Disclaimer - Privacy Policy The Author - Roger Chartier