Lot's of very useful information to solve your problems as far as dealing with many of the typical problems and some not so typical problems that we run into when working on a computer.
by
Roger Chartier
:
You've decided to create a newsletter for your business. Where to start?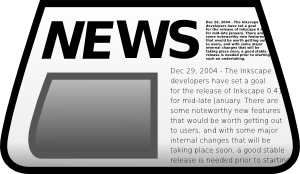 You don't want to lose touch with all of the people who have connected with you and contacted you because their future business can be very valuable.
The newsletter keeps them remembering you or your business and you are also building trust which increases the chance that they will do business with you in the future. It is more valuable to be worthy of trust as a foundation to build on.
The web is full of scammers
And if you are honest with people you will stand out.
The way that you deal with people in a newsletter, and your approach, as well as proving to them that what you say is what you do, will establish this. Give them reason to trust.
Take the fear out of the buyer. Use the newsletter to show people examples of how what you say or sell is proven to be legit. Give them something or some information that has value. If they trust you, they will do business far more readily.
Ultimately when you become a trusted source of advice you will have established valuable credibility.
If your newsletter's primary focus is to push your own business, then the longer your newsletter has been available and established the better for you. If it is a newsletter about a topic other than your business, then once you are established, you may be able to sell advertising in the newsletter.
Any last minute announcements
Are conveniently put into a newsletter such as a price reduction of a product or announcement of new product etc.
You do have to publish regularly and with consistent quality to establish that it is to be taken seriously.
As you go along, you can build up a large amount of e-mail addresses with a few methods.
One is to keep track of anyone who contacts your website for anything and another is to have an easy sign up form on your site specifically for your newsletter.
Don't ask for more info than you need as you will alienate people who like to protect their privacy. You should have a clear cut privacy policy stating what the info is for and that you will not sell or rent the information.
People like to opt out
People also like an opt-out or unsubscribe link so that they feel that they can stop the newsletter when they want. Put that closer to the top of the newsletter so that people can find it easily and not just hit the "Spam" button.
Make the sign up form readily available on the website.
It is best to keep the e-mail address list in a separate but useable form such as in a folder, in a mailing program. So that, you can send to the whole list with a few clicks rather than one at a time.
There are submission form programs that can detect if an obvious error has been made on a submission for such as an e-mail address without the @ symbol or with a http:// instead of proper e-mail form.
The form asks for correction if that kind of error is made. Make sure that the newsletter has something of value to say without a lot of useless fill sentences. People get aggravated with fluff and want the facts or relevant information.
Keep the information pertinent and useful. Newsworthy items related to the field of interest and interesting and valuable statistics and "how to" info can be good things to add.
If an outside author or contributor submits a useful article that can add credibility.
Links and contact information to field related outside sources are good as long as it doesn't actually cost you business. I learned a lesson when I used to have search boxes on a lot of my web pages, and I realized that people who used them wandered off of my site and didn't return that day, or maybe ever.
There are a lot of different e-mail newsletter software sending programs out there. Some are free, and others are not. Do a search and find out what is good for you.
If you use a typical program like MS Outlook, etc. and you add too many addresses in the bcc they will get treated as spam. If you are just starting the list and have a handful of addresses, you might get away with using your basic program sending 2 or 3 at a time.
The professional programs offer a lot more service and stats etc., and are worth it if you have a bunch of names. You can get auto unsubscribe and stats on link clicks and other reports, and it is all useful information.
Some have very good templates for the newsletter with forms etc.
Take some time and make good choices about mailing list software and the content of the text and the look and feel of the newsletter. Stay organized and you will find that it all comes together.
Below find a few new pages here for your perusal. Read, learn and make good decisions.
Check these links to other pages
Webhosting sign-up
Single domain web hosting
Dedicated server web hosting

Multiple domain web hosting
E-commerce web hosting
Best web hosting
Cheap web hosting
Free Web hosting
BitTorrent
Roger Chartier
Disclaimer - Privacy Policy The Author - Roger Chartier