Roger Chartier
Motorcycle Engine Size Requirements - Highway
49 cc too small for highway
Great bike but Kawasaki 440 (I felt a little too big on it, and with a passenger it was questionable on the highway) For a big guy like me it was still fun for back roads!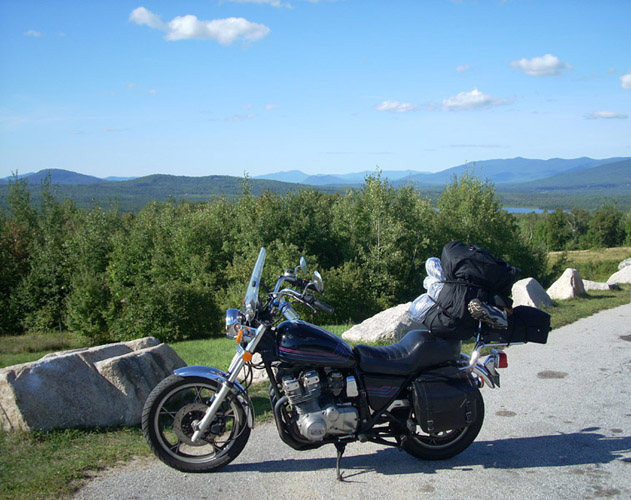 Suzuki 750 great for highway (I went camping in New Hampshire with it)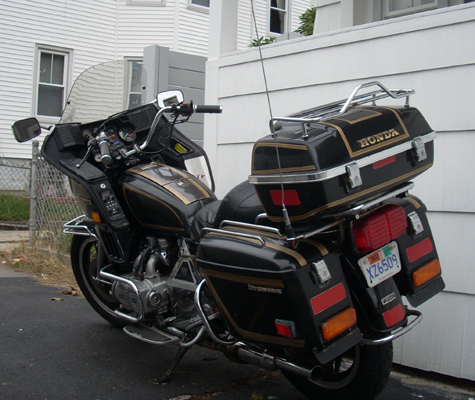 Honda Goldwing 1100cc- a real highway cruiser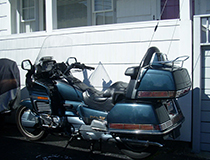 My 1500 CC Honda Goldwing - a great bike
Massachusetts RMV says that a moped is a "motorized bicycle."
In order to be classified as a moped, it has to have a cylinder capacity of no more than 50 cubic centimeters and an automatic transmission.

It has to be capable of a maximum speed of no more than 30 miles per hour. Naturally it has to comply with all applicable Federal Motor Vehicle Safety Standards.

You have to have a moped sticker, issued by the RMV. The sticker has to be affixed to the moped. The sticker won't be issued unless it meets the above requirements.

Moped operators are subject to the traffic laws, rules and regulations of the Commonwealth of Massachusetts.
Mopeds have the right to use all public ways in Massachusetts, except limited access or express state highways where signs prohibiting bicycles have been posted.

Mopeds may use bicycle lanes next to various ways, but are excluded from off street recreational paths.

Moped operators must signal their intention to stop or turn by using either hand.
Mopeds may keep right when passing a motor vehicle which is in the travel lane of a way.
More regulations:
Mopeds will not be operated:
By any person under 16 years of age.

or by any person who does not have a valid license or permit.

or at a speed greater than 25 miles per hour.

or without the operator and any passenger wearing a DOT standard helmet.
For More info on the federal level sources differ but here is the essence of it all.


Motorcycle engine size requirements for highway driving.
"Brake horsepower" (BHP) is the rating for highway use.

6 Bhp is the legal requirement for access to interstate and limited access highways.

Modern 150cc and over can usually meet this requirement.

Some old bikes may not.

But! If you are cruising along the highway on a 150cc bike at 40MPH don't be surprised if you end up having a nice conversation with the state police.
Most importantly the question would be if the motorcycle can handle your weight when in aggressive traffic situations such as highway speeds and lane changing, passing, etc.

Can it keep up with regular highway traffic?
My bikes
I had a 2 cylinder 440 cc bike that felt too light on the highway with my 250 lb body on, and with a passenger it was worse. The grandness of the highway made it feel as if I was on a bicycle.

I wish I still had it for backroads!

You have to be able to get out of the way of a situation with a bit of additional power, but if you are at the extent of your power, you can't speed up past a "situation".

It was nerve wracking to be so vulnerable.

My 1100cc Goldwing is much more stable as is my 750cc Suzuki.

As of 2013 the Honda Goldwing 1500 that I am using is a strong bike and has withstood a lot of travel through the USA and Canada.

I now have it hooked up with a matching colored trailer, SiriusXM satellite radio and a GPS as well as the other great things that come with the bike. It has a set of flat floor boards. This is a great Highway Bike.

Essentially, if you don't have enough power then you don't have enough control.
Can it brake well?
__________________________________________
California Gov says:

"A motorcycle is a vehicle whose motor displaces more than 150 cubic centimeters and has a seat or saddle for the use of the rider.

It is designed to travel on not more than three wheels in contact with the ground and weighs less than 1,500 pounds."
____________________________________________
"A motor-driven cycle is a motorcycle whose motor displaces less than 150 cubic centimeters."
___________________________________________
"A moped or motorized bicycle"

There are two types of motorized bicycles, defined in the California Vehicle Code.

(VC) Sections 406(a) and 406(b). Section 406(a) VC refers to a moped or motorized bicycle as any two or three wheeled device having fully operative pedals for propulsion by human power, or having no pedals
if powered solely by electrical energy, has an automatic transmission, and a motor which produces less than 2 gross brake horespower and is capable of propelling the device at a maximum speed of not more
than 30 miles per hour on level ground.
Section 406(b) VC refers to a motorized bicycle as a device that has fully operative pedals for propulsion by human power and has an electric motor that:
Has a power output of not more than 1,000 watts;
Is incapable of propelling the device at a speed of more than 20 miles per hour on level ground; and
Is incapable of further increasing the speed of the device when human power is used to propel the motorized bicycle faster than 20 miles per hour.
In China
In China a motorcycle with a large engine can not go on the highway and mopeds and scooters are also deprived of using the highway. I saw a beautiful new Harley Davidson in Shanghai and it could't go on the highway legally. That is different from the USA, but they have rules to follow for a reason.
More Valuable information
Classic Motorcycle Restoration Tips
a Great guide to restoration of vintage motorcycles. Click Here for all of the details and how to order online. _________________________________________________
Here is a great video on motorcycle riding that can save your life and help you to get your license.
Click Here - Behind The Road Tests. Interactive Handbook For Car And Motorcycle Licensing. This Behind The Scenes Video Is Brought To You By Honda, Karmazyn Media, Nc Media, Msi & Jim Kenzie. Nothing Like This On The Market!! Pass Your Road Test The First Time!
__________________________________________________
"Learn to Ride a Motorcycle is the ultimate beginner's guide. It will quickly get you moving in the right direction, and teach you everything you need to know to start riding. Whether you want to learn to ride a motorcycle right now or are just curious to know more, this book is a must-read.
If you have no idea where to begin your motor-cycling journey, "Learn to Ride a Motorcycle" will show you the way!
Unlike other motorcycle books that are outdated, or assume you know how to ride already, or--worse-- think you're some kind of adrenaline junkie, "Learn to Ride a Motorcycle" takes you gently by the hand and starts from the very beginning--you'll learn everything from scratch, so it's perfect even if you don't know anything about motorcycles at all. Click Here to see all of the available info and order this great e-book.
___________________________________________________
Car Auction Inc. Has a lot of info about how to buy motorcycles at auction in your area. Government Surplus Auctions With Rock Bottom Prices. Click Here to get the inside info.
___________________________________________________