Some pics and info - for more motorcycle info visit www.MotorCycles123.com
So, here is a brief history of my evolution into motorcycles.
Moped
I can't show you a picture of my first bike (bicycle) but here is my last moped. The problem here was that I couldn't get out of the way in traffic.
It's too slow for me who weighs in at 249 lbs.
It broke down once, and I said "Ok that's it.
Time to get a real motorcycle".
So on to the next bike.
A Kawasaki 440LTD.
I thought I was getting up into the real world of bikes. Get on the highway at speed and you feel like it doesn't want to let you ride that fast.
It's too shaky for me, and it feels small. It's a 2-stroke engine. The bike was born in 1981, so it's a bit of a relic.
With my buying power, that was the bike that I could afford. I bought it from the manager at a dealership.
I liked the belt drive, but someone asked me how long the belt would last, and of course I kept thinking "Hmmmmm, it could break sooner or later".
I could have changed the belt, but the bike was sold to a bike mechanic in a couple of months.
It was for his wife who had dumped a heavier bike. Then came the Suzuki.
Suzuki 750GL - 1980
Another oldie. This is a 750cc bike.
I had a lot of problems with it. The electrical needed work.

I replaced the regulator and added a 12V outlet so that I could easily plug a charger to it.

The fuel tank was rusty, so I did a very tedious job of stripping the inside and outside and using Por15.
Nice product to line the tank.
The process involves an acid wash and thorough cleaning. It is like new inside and no more rust in the fuel filter and carburetor. The previous owner didn't winterize the bike.

I had this one loaded for a 3-day expedition from Massachusetts into the mountains of New Hampshire.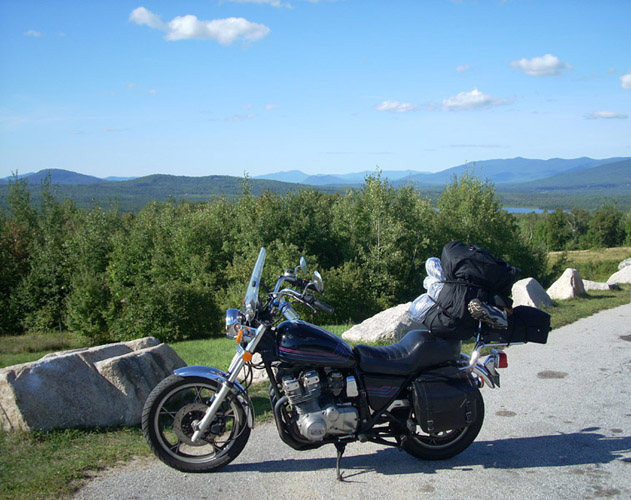 Goldwing 1100cc
The wife was coming back from China, and I thought I would get something more stable and comfortable on the highway.
I love the locking storage. You can leave something in a hard bag or the case on the back and lock it.

My problem now is to convince her to ride on it. She'll come around though I'm sure.

This one will need TLC from time to time. GoldWings have the great advantage of lasting longer than a lot of other bikes out there.

It is heavy and not for a small person but... I'm not small.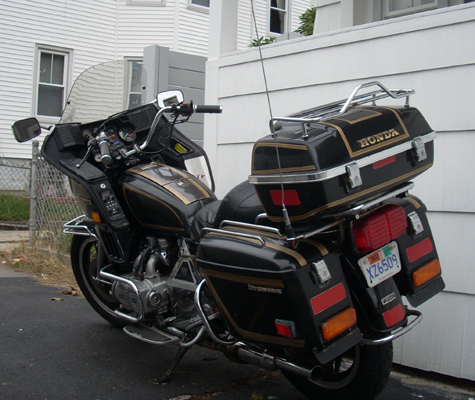 1989 Goldwing 1500
Here's one that I bought on April 11, 2009, with 70,000 miles on it.
That year and '88 which was the first year for Goldwing 1500's had all of the amenities available. This wing has reverse!
You put the bike in neutral gear and lift a lever on the left side of the gas tank then push the starter button and the starter motor will drive the motorcycle backwards at an even pace.
The 1989, 1500 has a CB radio, an AM/FM radio, cassette player and a great bonus! It has an air compressor that will stiffen or soften the rear suspension system.
There is also an outlet for an air hose to fill your tires, etc. The bike has cruise control. The idea for wanting reverse came out of a desperate day.
Here is the story...
I went camping near Bethel, New York during my 2 day visit to the Bethel Woods Museum where Woodstock took place.
The camp ground was horrendous, and there were rocks and potholes and big roots.
I got into a situation where I had to back the bike up to get out of a pothole and the Goldwing 1100 that I was riding was too heavy to back out without a reverse gear.
Finally, I had to put gravel in the hole to raise up the front wheel and mess around a bit to get out with a Superman push almost dropping the bike. So, now I feel that I need a reverse gear, and I have it with this 1500.

Download the 1989 Goldwing GL1500 Owners Manual 3.2MB

Download the 1989 Goldwing GL1500 Service Manual 67.3MB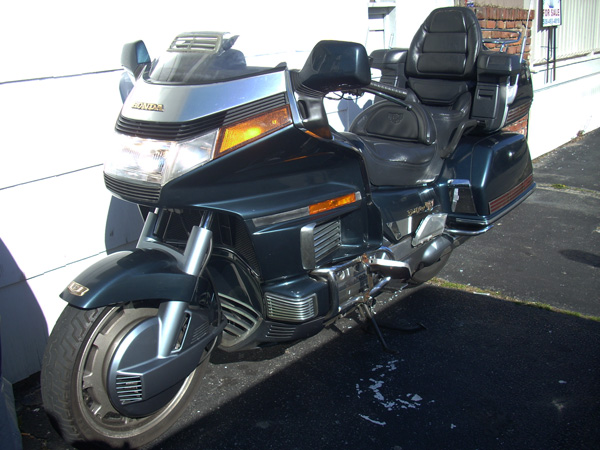 A 1993 Honda Goldwing Interstate 1500 CC.
This is not my bike, but this one sure is pretty.

I wanted a Goldwing 1500 cc for my next bike.

UPDATE:4/6/2009 As I found out this Goldwing GL1500 is an Interstate and doesn't have reverse.
Apparently not all 1500's have reverse. I am told that the 1988 and 1989 bikes do. As far as Goldwing GL1500's are concerned, after 1989, only the SE's and Aspencades have it.
This bike also doesn't have a lot of other amenities.
Sure is pretty though it is too heavy to push backwards up a hill when you can't go forward due to an obstacle or a pothole.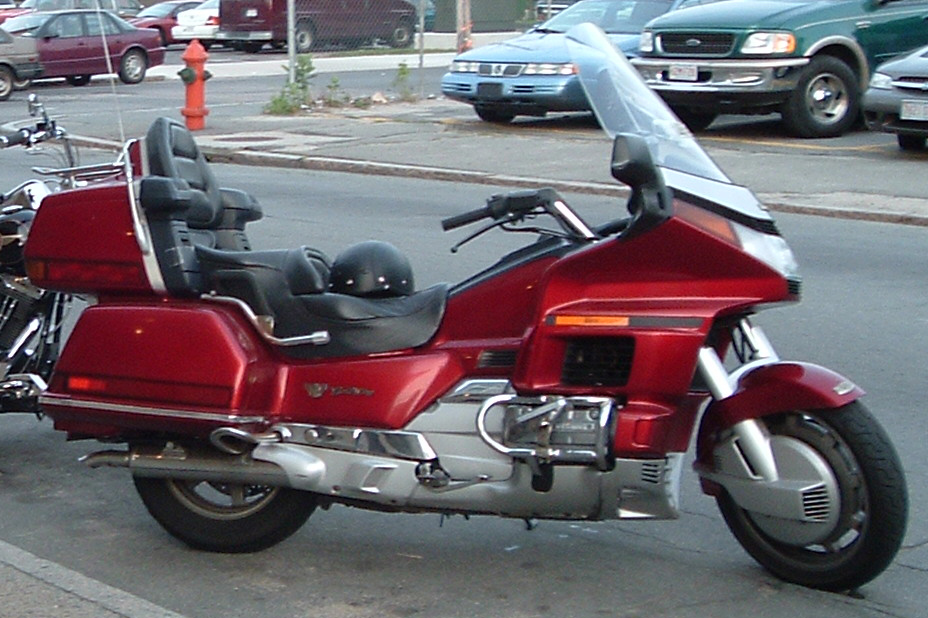 Now if, you want to see a really nice Goldwing, My friend Ernie Dube did the work himself on this Goldwing 1100.
He is a motorcycle mechanic, so it's all fun and games for him.
He even has GPS and Serius satellite radio installed.
Lot's of good info - www.MotorCycles123.com
The Author - Roger Chartier