Motorcycle Hearse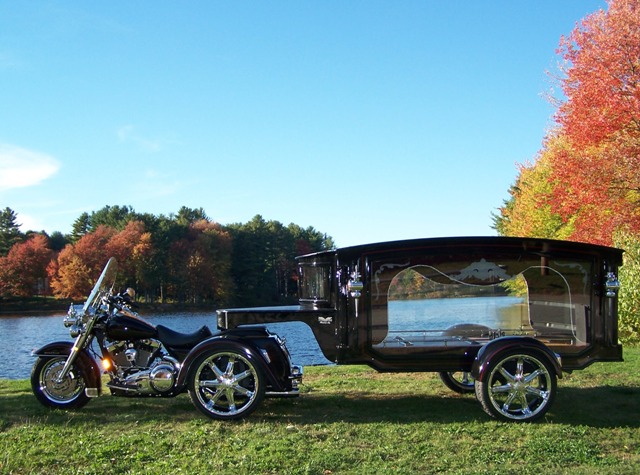 This is truly a unique idea! Visit the web site
www.cournoyerfh.com/
I got a nice email from Mark Cournoyer who is the proprietor of the funeral home. Here is part of what he wrote to me in his email.
"It's pretty difficult to hide the fact that it's an HD but all of the normal badging and insignia are removed in an attempt to keep it as 'neutral' as possible. (for those who are very brand specific.)
It's design is based very closely to the actual horse-drawn hearses and I have many photos of yesterday and today, side by side, ..."
"It is registered as a hearse so it is legal in Maine and Massachusetts who have that requirement in their state laws."

"This is professionally built by the Tombstone Hearse Company in Bedford, PA and there are several items of safety built into the design as well as the great looks. There are now 26 Tombstone Hearses around the country and 3 overseas, but this is still the only one in New England - and we will travel anywhere in New England to help anyone. It will accommodate any size casket and urns too."
This hearse operates from Jaffrey New Hampshire.

Office Hours Contact
Monday ~ Friday

8:30 am - 4:30 pm
Cournoyer Funeral Home
& Cremation Center
Post Office Box 486
33 River Street
Jaffrey, NH 03452-0486
More Valuable information
Classic Motorcycle Restoration Tips
A Great guide to restoration of vintage motorcycles. Click Here for all of the details and how to order online. _________________________________________________
Here is a great video on motorcycle riding that can save your life and help you to get your license.
Click Here - Behind The Road Tests. Interactive Handbook For Car And Motorcycle Licensing. This Behind The Scenes Video Is Brought To You By Honda, Karmazyn Media, Nc Media, Msi & Jim Kenzie. Nothing Like This On The Market!! Pass Your Road Test The First Time!
__________________________________________________
"Learn to Ride a Motorcycle is the ultimate beginner's guide. It will quickly get you moving in the right direction, and teach you everything you need to know to start riding. Whether you want to learn to ride a motorcycle right now or are just curious to know more, this book is a must-read.
If you have no idea where to begin your motor-cycling journey, "Learn to Ride a Motorcycle" will show you the way!
Unlike other motorcycle books that are outdated, or assume you know how to ride already, or--worse-- think you're some kind of adrenaline junkie, "Learn to Ride a Motorcycle" takes you gently by the hand and starts from the very beginning--you'll learn everything from scratch, so it's perfect even if you don't know anything about motorcycles at all. Click Here to see all of the available info and order this great e-book.
___________________________________________________
Car Auction Inc. Has a lot of info about how to buy motorcycles at auction in your area. Government Surplus Auctions With Rock Bottom Prices. Click Here to get the inside info.
___________________________________________________