Renew Your Passport or Apply for the First Time
You have to apply in person if your passport has been damaged or mutilated or altered.
Renew By Mail
To renew your passport by mail you have to send your most recent passport issued within the last 15 years. It must have been issued when you were 16 years old or older, and is issued in your current name.
If you have changed your name, you need documented proof.
Fill out Form DS-82 Application for a U.S. Passport By Mail
You can apply to renew by mail from USA, and it can be sent to you in USA or Canada.
Processing times range from 4-6 weeks for routine service and 2-3 weeks for expedited service.

If you have already applied, you can check the status of your application online.
If you apply for a renewal by mail, clearly mark "Expedite" on the outside of the mailing envelope.
Mail your passport application and any personal documents using a traceable delivery method.
Check the Photo requirements, to be sure that you do not have a delay because you didn't create an acceptable photo based on the requirements.
The photo has to be 2x2 inches or 51x51mm and in color on photo quality paper. In the image, the head has to be between 1 and 1 3/8" from the top of the head to the bottom of the chin.
See the Photo Composition Template for more size requirement details. Need a passport very fast - some as soon as 24 hours? Try this quick passport method.
Cost:
FIRST TIME APPLICANTS
Application Fee
Execution
Fee
Form
Adult Passport Book and Card
$140
$25
DS-11
Adult Passport Book
$110
$25
DS-11
Adult Passport Card


If you do not already have a passbook or card

$30
$25
DS-11
ADULT RENEWALS 16 AND OLDER
Adult Passport Book and Card
$140
---------
DS-82
Adult Passport Book
$110
---------
DS-82
Adult Passport Card
$30
---------
DS-82
UNDER 16
Passport Book and Card
$95
$25
DS-11
Passport Book
$80
$25
DS-11
Passport Card
$15
$25
DS-11
Under age 16 must apply in person
All minors including newborns and infants, have to have their own passport when traveling internationally by air.
Learn if your child requires a U.S. passport to travel by land or by sea .

There are special requirements for All Minors Ages 16 & 17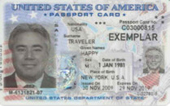 Payment instructions and special services
The passport card (rather than a passport book) has limited uses. If you are travelling you can re-enter the United States from Canada, Mexico, the Caribbean, and Bermuda at land border crossings or sea ports-of-entry using the U.S. Passport card.

It is easier to carry as it is the size of a drivers license and cheaper to get. You can not use it for international air travel. It is good for 10 years, and if you are over 16 the cost is $55 and $30 to renew it.
Under 16 and the cost is $40 and it is good for 5 years.
If you have never had a passport book, you need Form DS-11.
If you have a passport, and want the card, you can apply for one or both using the Form DS-82.
Need a passport in a hurry?
If you need it in less that 2 weeks for international travel, make an appointment to be seen at a Regional Passport Agency. If you need an international passport within 4 weeks to obtain a foreign visa, then you have to get in touch with the National Passport Information Center to make an appointment, or locate a Passport Agency.For more information, please refer to the website www.Travel.State.gov