W9 IRS Tax Form W-9 Tax Form
English and Spanish
W9 Form in Spanish - IRS W9 Tax Form en Espanol
Download the instructions in Spanish - Descargar W9 Español instrucciones en español
Download these free English and Spanish IRS W-9 tax forms.
Taxes are usually due every April 15 for most and quarterly for others in business.
If you are a sole proprietor, you may be asked to submit an IRS W9 tax form to the person or company who paid you.

You will need to get a completed Form 1099 from the person who hired you or your business as a sole proprietor stating the miscellaneous income from them.

IRS 1099 forms are usually sent to sole proprietors from the person or company who paid them an amount over $600.00 in one year.

You can download and print this free form here. Everybody likes free tax forms after all they are tax forms, for free!
There are 4 pages. Page 1 is the page that must be submitted.

Instructions are on pages 2 - 3 - 4.

A W9 form is a request for taxpayer ID number.

This might be a social security number for an individual or a federal employer ID number for a company.

This form also certifies whether or not you are exempt from backup withholding to the entity that is making payment to you.

The W9 form helps clarify your tax status.

It also helps determine whether or not you should get an IRS Form 1099 Misc for payments to you for services.
For more info go to www.taxman123.com or see the other tax tip pages on this site. See info about the IRS 100-Misc form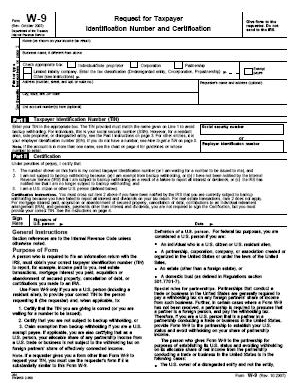 Click the small image of Page 1 shown here for a printable pdf. file of the entire form.
If you are a non-resident alien you should be using the Form W-8BEN and reading the Instructions on IRS form W-8.
Form more information on the W8 forms see this website www.printw8.com
The Author - Roger Chartier